2017年度日本建築学会賞(業績) | 朝霞浜崎団地バリューアップ計画
2017.04.30 Sunday
STUDIO HAN DESIGNで担当しました
アーバンフォレスト朝霞浜崎団地バリューアップ計画が
2017年度日本建築学会賞(業績)を受賞しました。
今後の団地リノベーションの方策、団地の地域資源としての在り方を
再考するための先駆的事業として評価していただきました。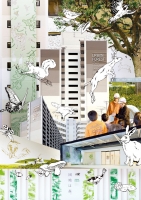 >日本建築学会受賞リンク
http://www.aij.or.jp/2017/2017prize.html
>UR賃貸紹介リンク
http://www.ur-net.go.jp/akiya/saitama/value_up/asakahamasaki/
----
Value-up Project for "URBAN-FOREST ASAKAHAMAZAKI DANCHI"
has received Architectural Institute of Japan AWARD (Specific Contributions Division).
The Re-design project was aiming to create "Commons: sustainable public space" for the habitants, for responding to the plight of homogeneity/ aged deterioration in large-scale social residential complex born since "Economic Growth Era". We designed it with the integrated "Ecological" approach such as the visual environment sequence-design, the spatial participation by the artist, the sign system editing design etc. Their new dwelling environment, rich in contemporary and diverse individuality, has been converted into the phase that encourages their community resilience with attachment and pride.
http://www.aij.or.jp/eng/prizes/prize/prize17.html