"Arches" Completion
2015.08.24 Monday
"Arches"
This is an apartment shared by a group of strangers a landlady and two tenants.
Responding to that, the design clustered the communal spaces in this apartment and inserted archways between them.
By way of framing, archways are able to suggest both a separation and a connection,
subtly moderating the physical and more so, social distances between the inhabitants.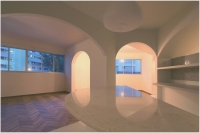 -----
"アーチ"
大小の弓形アーチが
部屋の一つ一つを繋げるシェアアパート。
都会で暮らす3名の住居者仕様。
一人一人が心地よく生活しながら
お互いの空間が
近すぎず遠すぎずな距離を
築けるようにしました。